Minkowski 1-4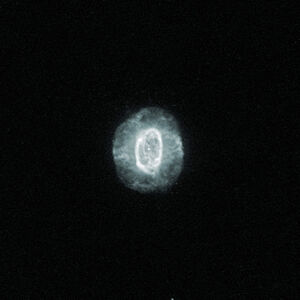 False color image taken by the Hubble Space Telescope
Observation Data
Epoch: J2000
Right Ascension: 03h 41m 43.439s
Declination: +52° 16′ 59.85″
Constellation: Perseus (constellation)
Apparent Dimensions (V):
Apparent Magnitude (V):
Absolute Magnitude (V):
Characteristics
Type:
Radius:
Astrometry
Helio Radial Velocity: -33.0
Redshift: -0.000110
Distance:
Other Designations
VV 11, ARO 209, PN G147.4-02.3, PK 147-02 1
Minkowski 1-4 is a small planetary nebula in the constellation of Perseus. The first detailed images of Minkowski 1-4 were taken by the Hubble Space Telescope in 1999.
Discovery
Minkowski 1-4 was discovered by Rudolph Minkowski in 1946.