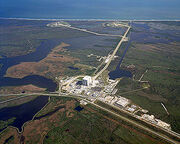 Launch Complex 39 (LC-39) is a rocket launch site at the John F. Kennedy Space Center on Merritt Island in Florida, USA. The site and its collection of facilities were originally built for the Apollo program, and later modified to support Space Shuttle operations. NASA began modifying LC-39 in 2007 to accommodate Project Constellation. Launches from LC-39 are supervised from the Launch Control Center, located 3 miles (4.8 km) from the launch pads. LC-39 is one of several launch sites that share the Eastern Test Range.
History
The first development on this site was in 1890 when a few wealthy graduates of Harvard University purchased the 18,000 acres (73 km2) property for one dollar per acre. Very nearly on the site of 39A they constructed a three-story mahogany clubhouse with twenty rooms for members and guests. The club featured a large dining room, wine cellar, trophy room and plenty of storage for arms and ammunition. Atop the lodge, there was a spectacular view of both ocean and wildlife that flocked to the surrounding marsh. During the 1920s, P. E. Studebaker, son of the automobile magnate, built a small casino at De Soto Beach eight miles (13 km) north of the Canaveral lighthouse to lure buyers to the site where plans were being developed for an elaborate resort city, complete with water, sewer, sidewalks, street lights, and landscaping. Also, the Playa Linda Development Corporation sought buyers to their 'proposed' development of 8,000 lots of 0.25 acres (1,000 m2) advertised as the "greatest beach development north of Miami." Prior to the construction of the complex, State Road A1A ran east of the complex. Along this rural ocean road was United States Coast Guard Station Chester Shoals built in 1885.
The initial design of the launch complex contained five pads that were evenly spaced 8,700 feet (2,700 m) apart to avoid damage in the event of a pad explosion. Three were scheduled for construction (shown) and two reserved for future use (one shown). The numbering of the pads at the time was from north to south, with the northernmost being LC39A, and the southern being LC39C. LC39A was never built, and LC39C became LC39A in 1963. With today's numbering, LC39C would be north of LC39B. LC39D (visible as an outline to the left side of the plan below and right) would have been due west of LC39C. LC39E (not shown) would be due north of the mid-distance between LC39C and LC39D, with LC39E forming the top of a triangle, and equidistant from LC39C and LC39D. Today, the crawler way stub that would lead to these pads is located one mile (1.6 km) west of LC39A, and 1.5 miles (2.4 km) south of LC39B, TerraServer Image The accompanying map also shows the unbuilt Nuclear Assembly Building (NAB).
Community content is available under
CC-BY-SA
unless otherwise noted.