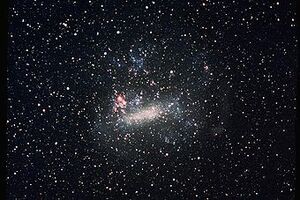 The Large Magellanic Cloud is the largest of the two satellite galaxies orbiting the
Milky Way
. The other
galaxy
is the
Small Magellanic Cloud
. The Large Magellanic Cloud can be seen from the Southern Hemisphere all year round and recently many discoveries have been found there.

The Hubble Space Telescope has found a Supernova in the Tarantula Nebula in the Large Magellanic Cloud. Ultimately, in the future, the galaxy will either be destroyed by the Milky Way or it will be ripped from its orbit by Dark matter.
The Large Magellanic Cloud is an Irregular galaxy.