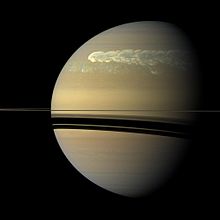 The
Great White Spot
on
Saturn
, named by analogy from
Jupiter
's
Great Red Spot
, is a name given to storms that are large enough to be visible by telescope from earth by their characteristic white appearance.   
The phenomenon is somewhat periodic:
1876 first observations by Asaph Hall. He used the white spots to determine the planet's period of rotation.
1903 Edward Barnard
1933 Until recent times the most celebrated. Made by Will Hay, comic actor and amateur astronomer.
1960 JH Botham (South Africa)
1990 Stuart Wilbert
2006 Erick Bondoux, Jean-Luc Dauvergne 
References
1990/1 Hubble Space Telescope image
2006: observed with a 12" telescope by amateurs near Paris.
Patrick Moore, ed., The 1993 Yearbook of Astronomy, Mark Kidger, "The 1990 Great White Spot of Saturn", 176-215, (New York: W.W. Norton & Company, 1992).