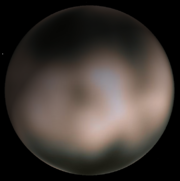 Charon is a moon of Pluto.
It was the only moon in orbit around Pluto before Nix and Hydra were discovered in 2006. Charon and Pluto orbit a common barycenter outside the surface of Pluto; this causes many astronomers to categorize the two as a Double planet (or even double dwarf planet).
Community content is available under
CC-BY-SA
unless otherwise noted.